We are happy to introduce our newest piano bench, the Forte Adjustable Piano Bench. It features a high polish finish, square tapered legs, and a comfortable vinyl upholstered top. The bench uses attractive wooden knobs (compared to the cheap looking plastic knobs you'll find on many cheaper imports). Weighing 22 pounds, the bench adjusts in height from 18.5 inches to 21 inches.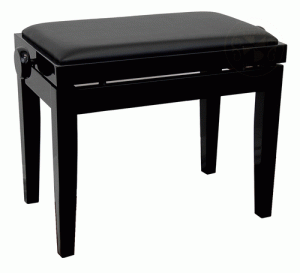 If you have an upright piano and are looking for an adjustable piano bench, we recommend taking a look at this product. It's size and design would look good in front of an upright or even smaller grand piano.
Current sale price is $190.00, with free shipping to the lower 48 states in the US. A very good deal, and great quality, for a sub-$200 piano bench.